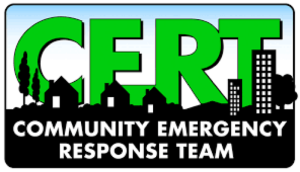 What is CERT?
South Gulf Cove Community Emergency Response Team
Who and where are they?
The CERT Team is a dedicated group of highly motivated residents from SGC & Village of Holiday Lakes who have volunteered to take the required training for the purpose of forming and developing our local group.  We operate under the umbrella of the CCT.  
The Heart of the C.E.R.T program is "Neighbor Helping Neighbor"
How are we funded?
SGC C.E.R.T is self-funded.  There are no tax dollars provided by the County.  The County only provides training for volunteers.  Money is needed to maintain the trailer and stock all the necessary supplies. 
What does this mean for people living in SGC?
In case of a major disastrous event, County provided emergency services could be negatively impacted and communication may be impinged.  As soon as possible and when safe to do so, SGC C.E.R.T assessment patrols would start a visual survey of our community to determine damage levels and provide aid to those that require it. If our community experiences a significant destructive incident, our C.E.R.T team would provide a first response benefit to all SGC residents.
How can you help?
Make a tax-deductible donation, checks made out to SGC CCT/CERT,
Consider becoming a SGC CERT Volunteer.
Please contact Geoff Norton at cert@southgulfcovecct.org for more information 
Please help me welcome the newest members to our CERT Team!
Don Hoffman, Cindy Hoffman, Lori Gardow and Joe Anderson
Thank you for joining our Team!
–Geoff Norton
.