Registrations have closed.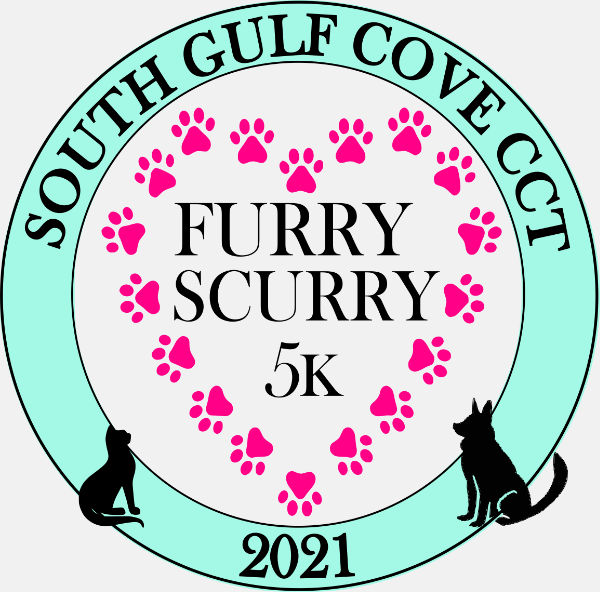 2021 Furry Scurry 5K Run/Walk and Mutt Strutt
309
309 people viewed this event.
In February The CCT organized its 1st Annual South Gulf Cove CCT Furry Scurry 5K Run/Walk and Mutt Strut to benefit 4 of our local Animal Shelters/Rescues.  This was uncharted waters for the CCT and in the 5 months of planning, this event exceeded our expectations.  The event yielded 245 registrations and a wonderful Community turn out.  Special thanks go out to our wonderful sponsors that made this event financially possible and enabled us to give the wonderful athlete's some nice treats for supporting our cause.  This event could not have been as successful as it was without the many volunteers living both in our wonderful community and surrounding communities.  They took time out of their busy schedules to help us with all aspects of planning and pulling off this event.  The CCT board sends out a HUGE THANK YOU to you all.  We are very proud to be a part of this wonderful Community.  You all made it possible for the CCT to be able to present a $10,000.00 donation divided in $2,500.00 increments to:
Englewood Animal Shelter and Rescue
The Labrador Retriever Rescue of Fl. Inc.
The 2nd Annual South Gulf Cove CCT Furry Scurry 5K Run/Walk and Mutt Strut is on the calendar for February 12, 2022…
Let us know if you would like to be a part of this wonderful Fundraiser by contacting any member of our board. 
Feedback from participants……
We have received very good feedback from the race community on how organized and well run our first event was.  Some have stated bringing in running clubs next year, track teams etc.so we expect our numbers to grow even higher next year….we are looking to incorporate into a larger Community event after the race portion of the event.  More to come on that….